Sales Team not Achieving Targets
Margins are Shrinking & Costs are going up
Loss of Order Due to Poor Client Follow up
You have to Fight Competition, Discounting & Credit
Payments don't come on time, Which leads to Poor Cash Flow
The Joy of Doing Business is no longer there, Even after Working 24×7
You do not have the Right Team
You are not able to find Good People
You have to do most of the work Yourself
Team doesn't Take responsibility &
Perform
Constantly chasing the employees to get the work done
No Time for Personal Life & Missing to Enjoy the golden years of Life.
WANT TO RUN YOUR BUSINESS WORKING


ONE DAY A WEEK?
Clients Nearly Stop Calling You
No More Cash Flow Problems
Reduce Working Capital by 30-50%
Priceless – Stress Free Life, Total peace of
MIND
Create leaders who start Thinking for the company Growth
Inventory Never Finishes & Inventory Reduces by 30%-50%
From No Time to Abundance of Time for FAMILY, FRIENDS & YOURSELF
Vendors love you even if Payments are 2-3 months late, they won't call you for payments
Get the Right Team
Team start taking decisions
Getting the right team – who take responsibility
You say 65% increment and they say YES SIR, Thank you
Finally Move from doing all the work to getting the work done
World Class dashboard to monitor performance of each employee.
No more salary increase blackmail, increments take just 5 mins with no argument
Create world class Key Result Areas (KRA's) & Key Performance Indicators (KPI's) for everyone.
CREATING POWERFUL MANAGEMENT SYSTEM THAT
WILL GIVE YOU TOTAL CONTROL OF EVERY PART OF
YOUR BUSINESS
YOU CAN ACHIEVE ALL THE BELOW THINGS WITH
4-DAY BUSINESS MASTERY INTENSIVE WORKSHOP
CREATING A POWERFUL YOU
Double Your Personal Productivity
Never forget any task or information.
Eliminate your To-Do list and learn the 5 tools which will manage your tasks.
The one super tool to finish all your task on time.
Manage all your E-mails, in one hour per day.
Eliminating all the coordination and follow ups which eat up 80% of your time.
Get your staff to finish delegated tasks without your follow up.
Master implementation such that 80% of small Projects/ideas get implemented.
Implementation and timely completion where others are involved. Handle all the meetings (Big and small) and ensure they do not suck up your time.
How to handle your staff walking into your cabin all day long.
Go from not having time to having an abundance of time in life.
Lead a stress-free life.
How to create time for yourself and family.
Create More time in the Day
Double Your Personal Productivity.
PUT YOUR BUSINESS ON AUTOPILOT
SALES & MARKETING
RAHUL JAIN
Co. Founder and CEO of Business Coaching India
Rahul Jain is the pioneer who got the concept of Business Coaching to India, 19 years ago and the Founder Director of Business Coaching India LLP.
A professional (Engg & M.B.A) with over 26 years' hands-on experience, with blue chip companies such as TATA MOTORS and then as a serial entrepreneur.
Over the last 19 years, he has coached more than 20,000 business owners, providing them the following 2 Results,
Run your Business Operations WORKING ONE DAY A WEEK &
DOUBLE YOUR PROFITS EVERY YEAR.
These businesses are operating across verticals like Manufacturing, IT, Distribution, Retail, Education, Architecture, Hospitality, NBFC, Schools, College, Hospitals, Architecture, CA's, Software, Biotechnology, Travel, Import & Exports, Event Management and other Service Providers.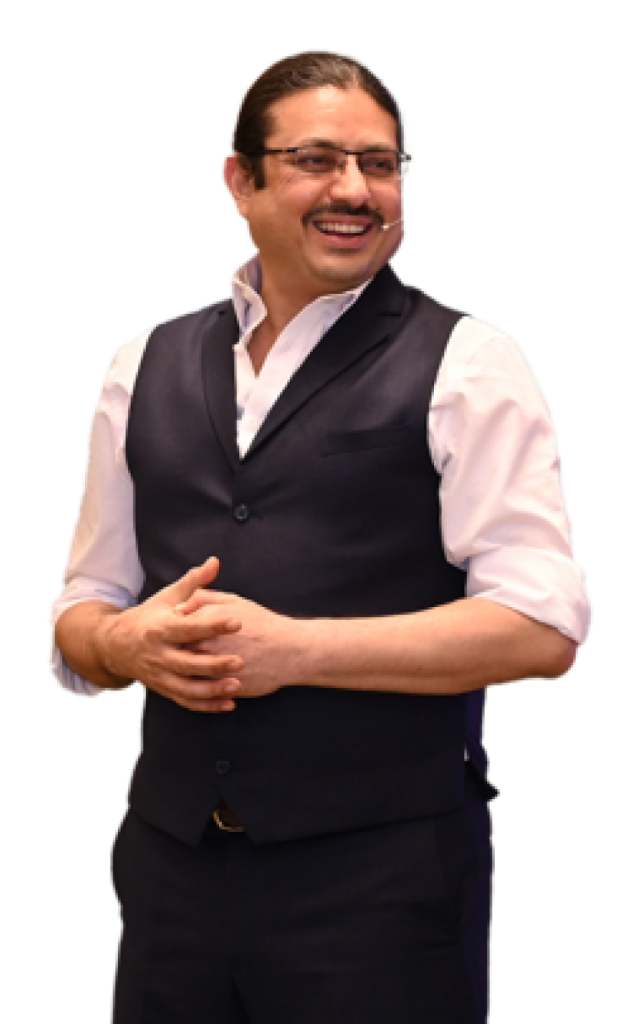 RESULTS OF THE PREVIOUS BMI BATCH